2022 Annual Meeting


Wednesday, February 23, 2022 - 7:00 pm

WLCT 2022 Public Meeting:
You are cordially invited to the 57th Annual Meeting of the WLCT, where we will hear from our President, Treasurer, Committees, and Executive Director. The Public meeting will be held remotely, via zoom, on Wednesday, February 23rd, at 7:00 pm. The Members Meeting starts at 6:00 pm.
The highlight of the evening is our guest speaker, Dr. Mark C. Urban. He is an international award-winning scientist, the Arden chair and professor of ecology and evolutionary biology at UConn, a global expert on climate change impacts on nature, and an author of over 70 scientific articles.
The WLCT welcomes all to attend. Please RSVP; We hope you'll join us.
Mark C. Urban is an award-winning scientist, the Arden Chair and Professor of ecology and evolutionary biology at the University of Connecticut, founder and director of the Center of Biological Risk, and global expert on climate change impacts on nature and evolutionary ecology. An avid field biologist, Mark takes every opportunity to get out in the field to learn about the diversity of life and threats to it. He routinely spends time in ponds, lakes, and streams in regions ranging from New England to the North Slope of Alaska. He founded and directs the Center of Biological Risk, the first center devoted to forecasting the complex risks to society mediated by ecosystems. He has authored over 70 scientific articles, appearing in top journals such as Science, Proceedings of the National Academy of Sciences, and Nature Climate Change and has been cited more than 10,000 times. By integrating ecology, evolution, and genomics, his work has uncovered new principles that routinely challenge existing ideas, including challenging the spatial scale of adaptation, the importance of adaptation in ecology, and highlighting the joint ecological and evolutionary responses to global change. Most recently, his work has focused on designing global efforts to estimate and mitigate extinction risks from climate change on biodiversity.

His work on climate change impacts on species extinctions was highlighted as one of the top scientific discoveries of 2015 by Discover Magazine and in The Royal Society's update to the 5th IPCC report. His research has been covered by news outlets around the world including The New York Times, NPR, CBS, CNN, BBC, Associated Press, Washington Post, The Guardian, and National Geographic. He has consulted on stories about climate change appearing in National Geographic, Sir David Attenborough's documentary Climate Change – The Facts, and the television series, Years of Living Dangerously. His opinion pieces have appeared in The New York Times, The Guardian, and Science. Since 2015, he has led an annual contingent of UConn students, faculty, and staff to the United Nation's summits on climate change. He currently leads a graduate training program on environmental risks, co-leads the campus-wide pop-up course, "Climate Crisis: Take Action," and teaches courses in ecology, evolutionary ecology and global change biology. Mark has given more than 75 presentations on his work, including to TEDx, World Wildlife Fund, and the Association for the Advancement of Arts and Sciences. He was awarded both the Young Investigator and Presidential awards from the American Society of Naturalists and has twice been named a Web of Science Highly Cited Researcher.
Mark Urban has contributed to biology by advocating for tighter linkages between ecology and evolutionary biology, suggesting the prevalence of fine-scaled microgeographic adaptation in nature, and highlighting the accelerating extinction risk from global warming.
At the WLCT 2022 Annual Meeting, Mark looks forward to discussing the latest research on climate change and how it is affecting Connecticut. I'll then relate how climate change is altering Connecticut's wildlife and its benefits to humans.


Click here to view his website.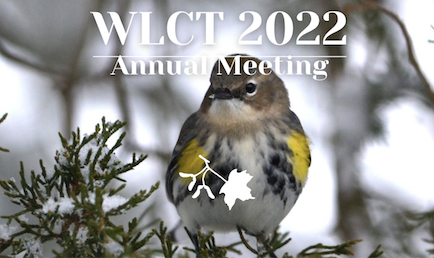 WLCT 2022 Members Meeting starts at 6:00 pm.
This meeting is for the WLCT to conduct its annual business and for WLCT members to vote in Trustees. Any and all WLCT members are welcome to join and participate.